Build a modern workplace that helps to manage & boost your business productivity
Manage tasks effectively
Improve productivity with easy task management for all your tasks and projects.
See what tasks are due and what tasks are pending and assign them to your team accordingly.

Track projects
Ability to track every project, from the beginning until you get paid and can check the timeline at a glance to see what everyone is working on.


Assign Tasks
Assign roles to project members and stay on top of all your work and provide ease to your team to hit their deadlines.
Manage milestones & bills
A complete solution that unifies everything to manage your project
expenses, invoices, received, or pending payments, budget, and milestones of the project.

Payments
The safest way to make payments. Provide clients the power to pay securely, online, by card to keep everything simple and keep track of every single payment.


Invoices
Seamlessly create, customize, and send project invoices within minutes. And keep track which clients still owe you money, and which invoices were already paid. 
Manage your employees
Manage tedious HR tasks into just a few clicks. No matter is for managing attendance,
pending leaves, payroll, leave application, etc you can handle it systematically and more easily.

Leaves
View leave record with information on leaves availed, canceled along with the annual leave balance summary. Also can check the pending and upcoming leaves so you can manage work accordingly.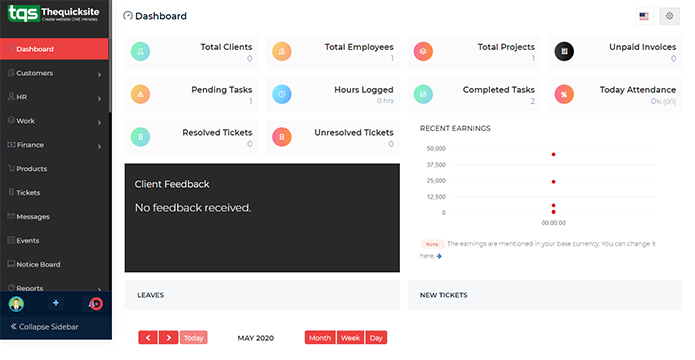 Improve team communication with proper work schedule and time managements
Effective internal and external communication practices help you to build a better workplace, increase productivity, and reduce your day-to-day conflict between team members. You'll get a complete overview of any project, including time spent and planned meetings and tasks, billed, expenses and invoices, comments, and files.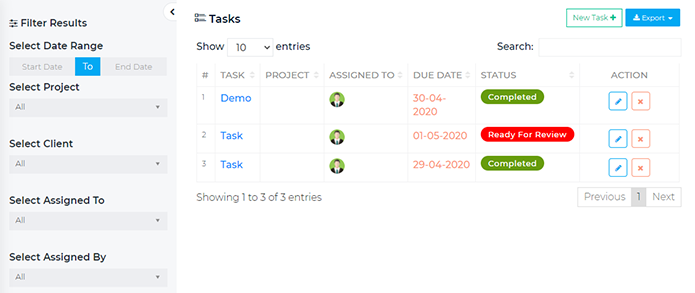 Tasks
Create tasks for individual employees, or entire departments and workgroups. You can track tasks from the beginning, set deadlines, prioritizing tasks, and assigning them to the right people.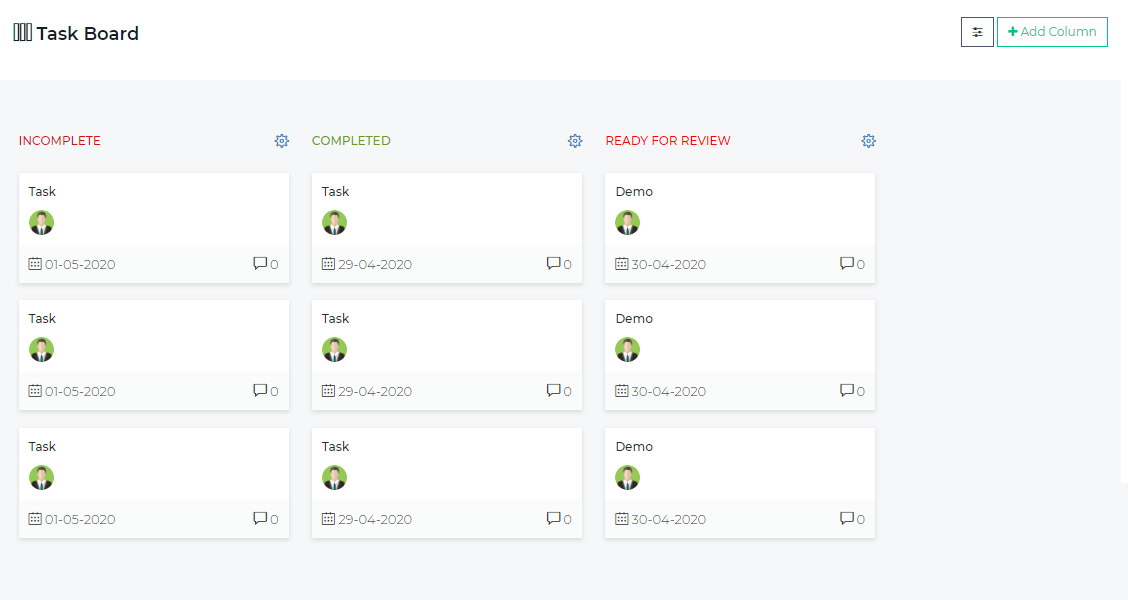 Kanban boards
A visual way to manage your work with the advanced drag and drop feature. You can craft workflows with the customized columns and collaborate online with shared boards. This drag and drop feature allows you to progress tasks from one place to another.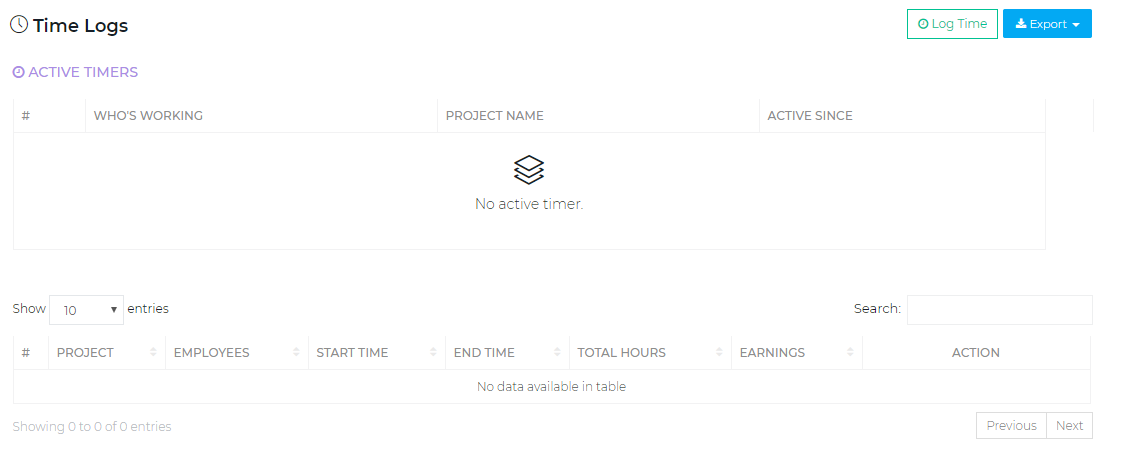 Time sheets
In timesheet, you can capture employee's time spent on tasks as input for project tracking and project controlling. Get a track record from timesheets that how long an individual spent doing a particular task.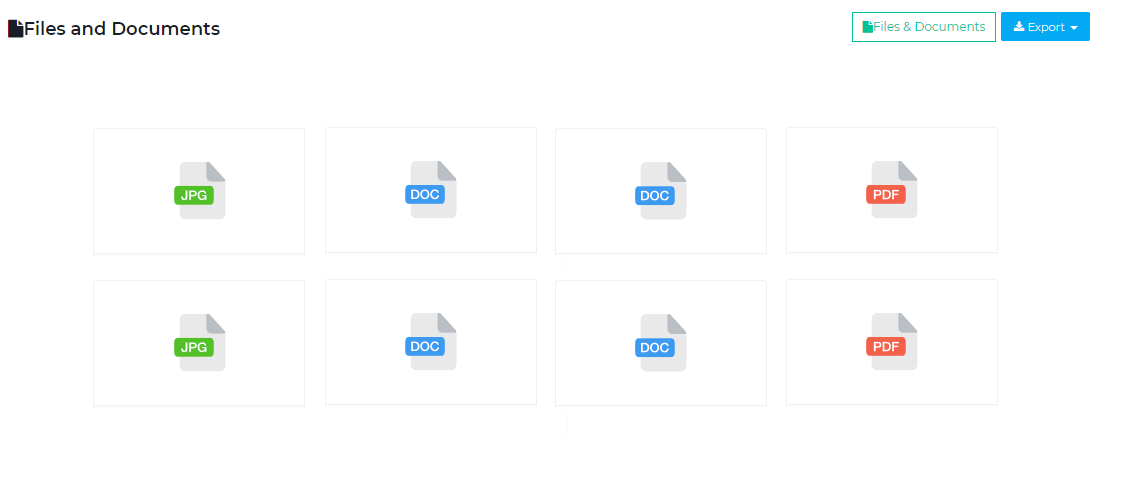 Files and documents
Get quick access to all your files and documents and their management directly from Project. Share files and collaborate on project documents and allow team members to attach relevant files.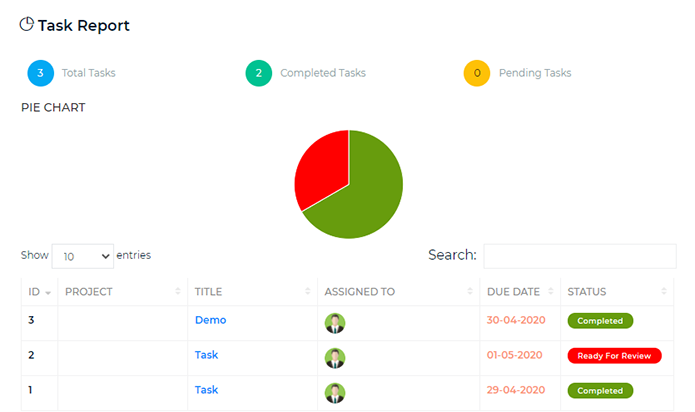 Reports
Stay updated on every project and manage them accordingly. Reports allow you to consistently monitor and communicate your all project scope, progress, budget, and time at any time to anyone who needs to know.

Attendance
Know attendance real-time, Flexible attendance options, Integrates with payroll systems all these features help you to manage and maintain the attendance of every employee.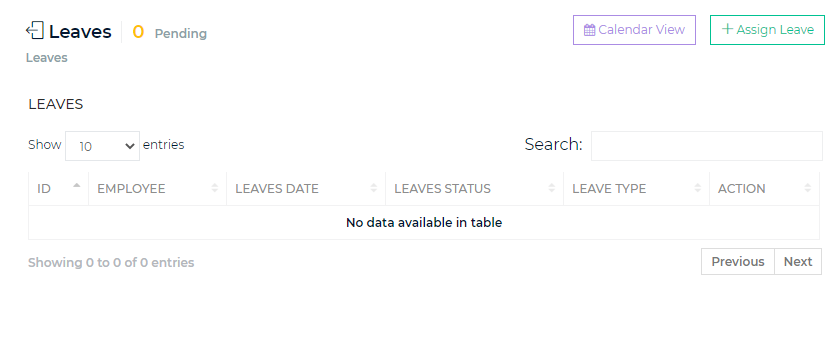 Leaves
View leave record with information on leaves availed, canceled along with the annual leave balance summary. Also can check the pending and upcoming leaves so you can manage work accordingly.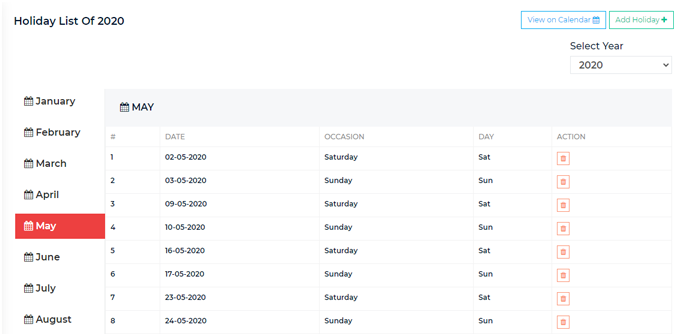 Holidays
Check your upcoming holidays and manage your project deadline accordingly. Get pre-booked holidays in the calendar and remind your team regularly about keeping you looped in on time off.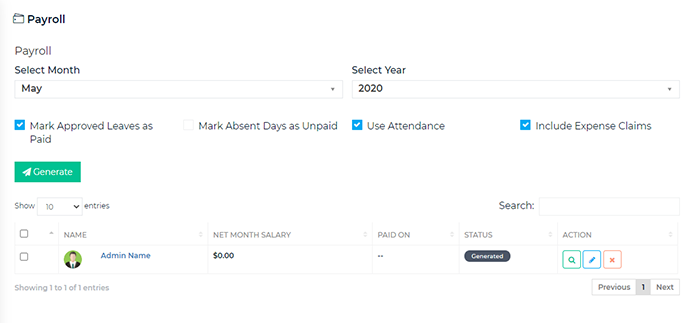 Payroll
It gives you the power to manage employee information efficiently. It deals with the financial aspects of every employee allowances, salary, deductions, gross pay, net pay, etc. You can track every aspect related to their payroll.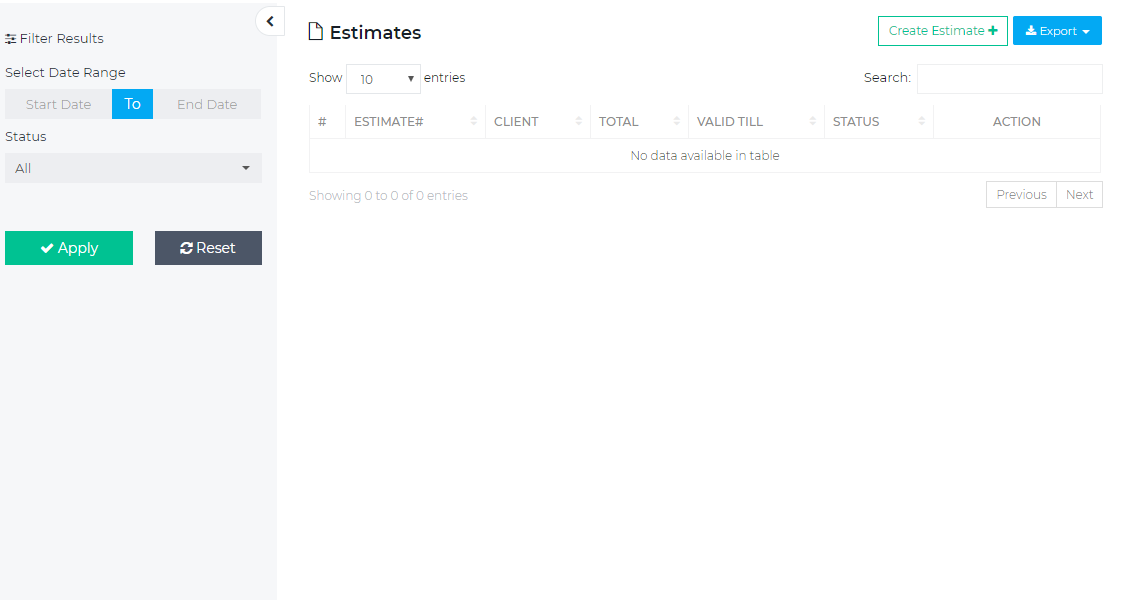 Estimates
Assemble a cost-estimation team and outline their approach. Develop the timeline and analyze who will do the independent cost estimate from your team. It also shows the estimation skills of your team for a particular project.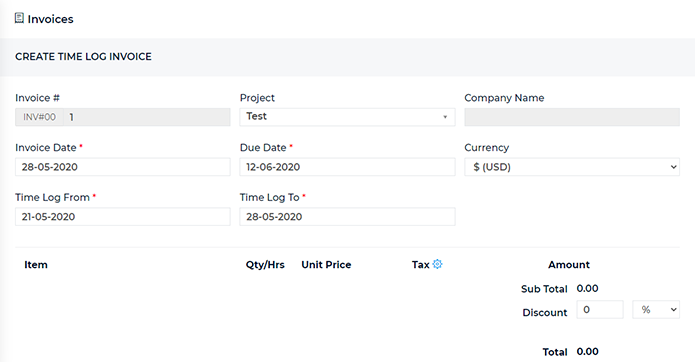 Invoices
Just focus on your business, not on paperwork. You can seamlessly create, customize, and send project invoices and estimates within minutes.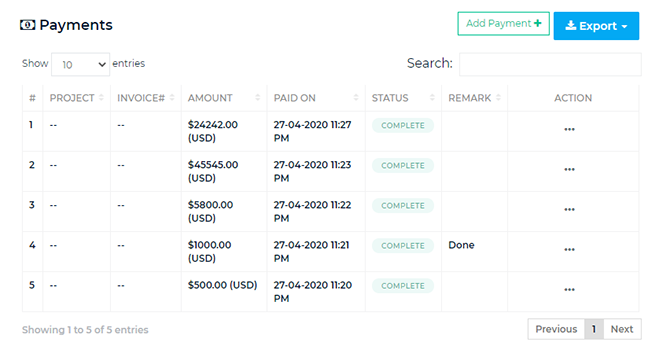 Payments
The safest way to make payments. Request payments from your clients, and provide them the power to pay securely, online, by card to keeps everything simple.
Make more time for the work that matters most

Project management
Task Management
Time Tracking
Milestone Tracking
Gantt Chart
Task Board
Task Calendar

Reports
Task Report
Time Log Report
Finance Report
Leave Report
Attendance Report
Income VS Expense Report

Human resource
Employee List
Department List
Designation
Employee Management
Attendance Tracking
Leaves Management

Customers
Client Management
Lead Management
Client Portal
Ticket support system
Billing and invoicing

Finances
Invoices
Proposals & Estimates
Expenses Tracking
Credit Note
Payment

Other features
Event List
Tickets
Messages & Chat
Notice Boards
GDPR Compliance

Finance analytics
Employee Management
Attendance Tracking
Leaves Management
Holiday

Tracking system
Task
Timelog
Finance
Leaves

Event planing
Event
Tickets
Messages
Notice Boards
Have a look on responses we get from our satisfied users
Our client's reviews will help you to make up your mind for choosing the best management system to satisfy your all management needs.

A one-stop destination for all your needs. But there is one thing that attracts me the most and that is its HR management feature. This human resources feature takes a big load off the HR department. They are providing you the simple HR management system which helps you to track all employee activities, check their attendance, salary, leaves, and get approvals online, simplify HR work, and deep insights with zero effort.
Timothy Gonzalez

Incredible services with world-class features, especially the ticket support system they are providing. They are providing you their full support whenever you need it. No matter whether the issue is for HR management features, CRM, or any other management system. All you need is to just raise a ticket regarding the issue you are facing and their experts will approach with the resolution less than 24 hours.
Irene Russell

The more I explore the feature of IMWCMS, the more I feel obsessed with this platform. Because it is your team workspace where knowledge and collaboration meet to achieve great things. You can plan your every project by using features like Task Management, HR Management, Milestones, and bill Management.
John Berger

Go the best experience with the IMWCMS, this platform not only offers you flexibility but also provide full support to all your business needs. The simple intuitive interface helps managers to set a clear workflow to improve productivity. But the best part is a time tracking, you can track the total amount of time each project contributor spends on their assigned tasks.
Gerald Alley
Still, Thinking To Get Started?
Just try our FREE Trial for one month and experience the most proficient and efficient way of management.
No installation
No credit card
No chaos